We have a new senior pastor!
Please help us welcome Pastor Jeff Crain. Here is a letter from him to the church regarding his upcoming arrival.
Dear Friends,
I pray this letter finds you well. I am excited to be the new senior pastor of the Tampa First
Seventh-day Adventist Church. I have no doubt God has some amazing things planned for this
church. I praise God for what He is already doing.
I would like to personally invite you to my first Sabbath on September 10. Whether you
regularly attend church, or haven't been in a while, you are welcome. I would love to meet you
personally. Bible study is at 10am and our church service begins at 11:15. Also please plan to
stay for the potluck lunch after church.
Wherever you are at in life, right now, know that God loves you and you are important to Tampa
First. Jeremiah 31:3 says: I have loved you, My people, with an everlasting love."
I hope to see you soon,
In His Service,
Jeff Crain
Pastor Jeff Crain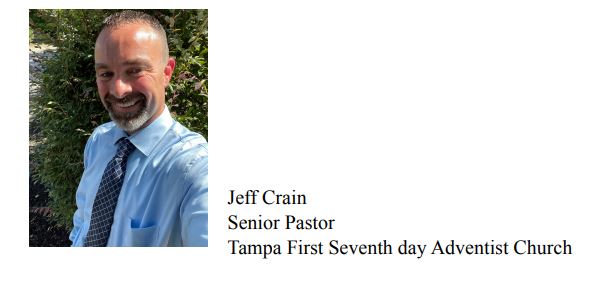 ____________________________________________________________
Do you have an event that you would like advertised? Let us know on the Contact Us page.